Style Meets Performance

Bimbachextrem is proud to introduce this blonde full lace wig to you. With pre-plucked baby hair, this silky straight synthetic hair features 100% hand-tied stretch cap that is completely hand-knotted, Offering supreme comfort and natural look.Crafted from HD lace, this wig has very believable super free lace parting in the front or on the back for an ultra-realistic look and feel. There are adjustable band and additional Velcro straps for a secure fit. And the simulation scalp top provides limitless styling possibilities and ensures the most natural look. All together, this wig is one of the most sought-after pieces in full lace range.
SPECIFICATIONS:
Category: Full Lace
Brand: Bimbachextrem
Material: Kanekalon® Fiber
Style: Straight
Cap Size: Medium Size(22")
Density: 250%
Color on Model:613#Blonde
Hairline: Pre-plucked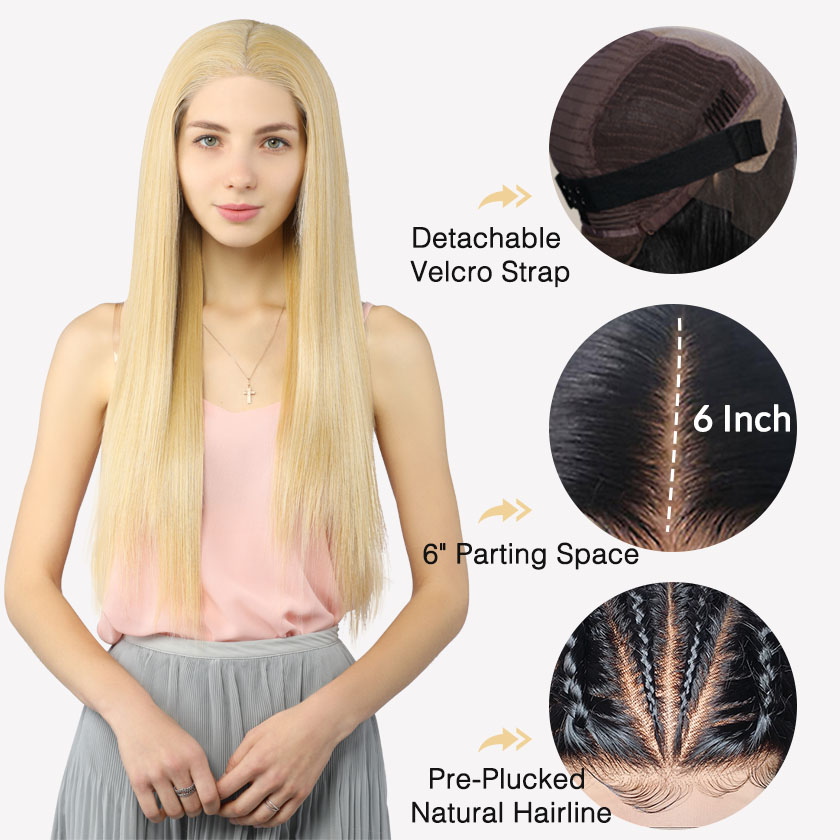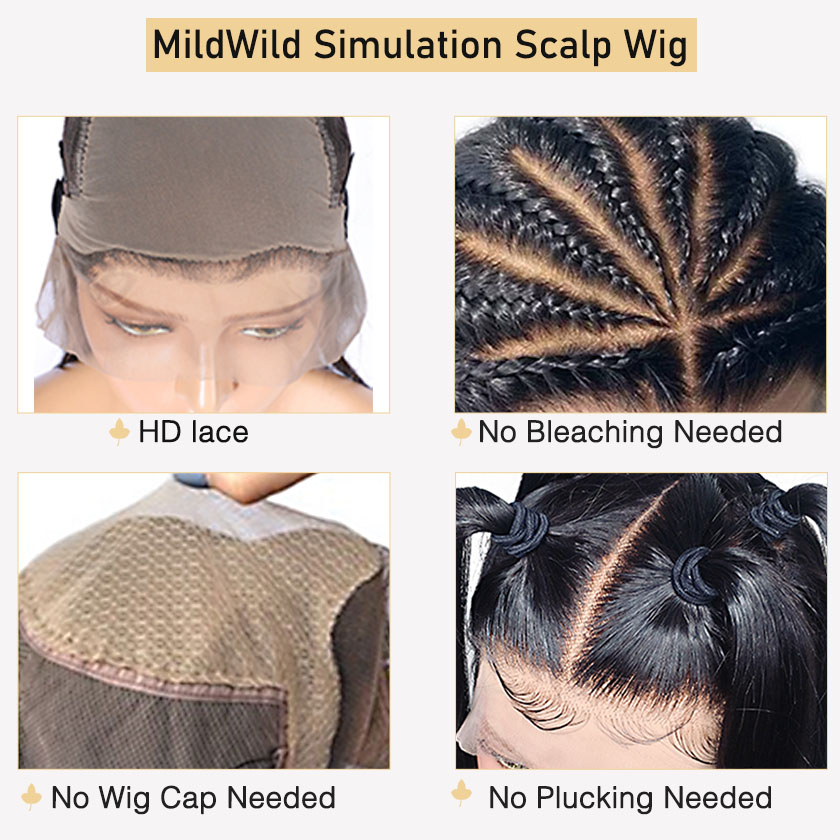 Believe me or not, you'll have endless styling options and the most natural-looking appearance with this beautiful, ultra-silky style.

The Bimbachextrem Wigs Signature
Bimbachextrem wigs are made from Kanekalon® hair that are specially formulated to look, feel and style like real hair. Crafted, fitted and styled with unparalled skill and constructed using advanced simulation scalp technology, Bimbachextrem wig has quickly become the preferred choice among women.
Wigs Enhance Your Beauty
Bimbachextrem Full Lace Wig features a wig construction designed with individually hand-tied strands on a breathable lace cap for the most realistic-looking wig yet. With a 100% hand-tied HD Lace covering the top front of the unit for free parting, as well as in the back for various high ponytail styles, this collection offers the most versatility in styling and comfort in wear.
A BONUS Package Includes:
Exquisite Gift Box: Made from high-quality ultra-durable construction, it provides plenty of space for your ribbons, tools, cosmetics, jewelry, toiletries, coins, etc. 
Fancy Necklace: Great gifts for yourself or friends. 
Scented Soap Flower: Perfect as a decor, or for bathing and hands washing.
Easy-to-Use Wig Cap: Tightly hold your hair in place.
FEATURES:
Unique Simulation Scalp Top - Allows for free parting option while giving the true-to-skin appearance.
Adjustable Velcro Straps - Ensures an impeccable hairline by adjusting the stretch straps.
Pre-plucked Baby Hairs - Gives you a natural looking hairline while giving less work.
Full Lace Design - Delivers unsurpassed comfort while offering the flexibility to have braids, ponytails and more.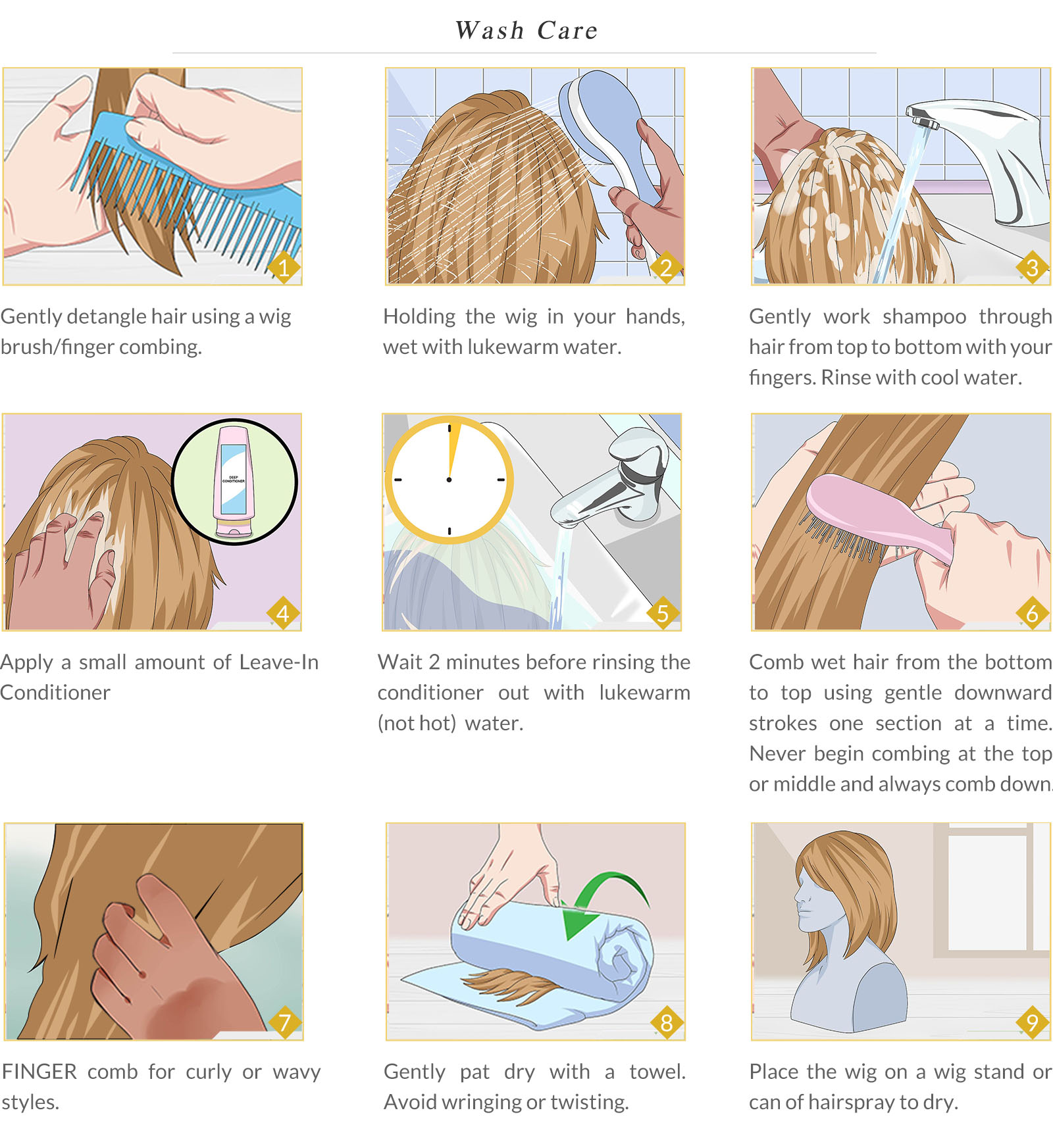 15-day Warranty: In the event that you have issues with your wig, we will give you a full refund within 15 days of purchase. Please ensure that the wig product is returned in origional package with lace uncut.

180 Days Warranty Plus

: At Bimbachextrem, customer satisfaction is our top priority. In addition to a generous 15-day standard warranty, Bimbachextrem is making it even more attractive by adding an extended warranty coverage of 180 days that costs only €29.99. It adds peace of mind and protection for a total of 180 days. For any quality problem, please exchange it for the same item within 180 days from the date of your order. You could contact us via email at info@bimbachextrem.com.
Important Note: Single purchase for single use on single item only. 
Free for standard shipping, fast delivery only need 3-5 business day in USA, others country need 2-7 business days
Related Items
Undetectable Invisible Lace Full Lace Straight Wig Fake Scalp Two Tone 2T103#
€99.90 €129.90
---
Light, Resilient and Comfortable There is no denying the beauty of long straight blonde hair with high volume. Meticulously crafted, this piece is at the...
View full product details
Synthetic Full Lace Straight Wig Dark Roots Platinum Two Tone Color 2T60# 250 Density
Sold Out €99.90
---
Classic, Trendy and Luxury Light and see-through, with a soft feel, It makes a great option for women looking for a silver white full lace...
View full product details
Fake Scalp Synthetic Full Lace Straight Wig Two Tone 2T613#
€99.90 €129.90
---
Subtle Grace Gleams Beautifully People say blondes have a sense of fun. Why not try on a blonde wig to test that theory? Unlike tradtional...
View full product details
Full Lace Wigs Synthetic Hair Straight Fake Scalp Blonde Wig 103#
€99.90 €129.90
---
A Better Experience All the Way Round This is a long, straight and layered synthetic hair wig that is 100% hand-tied and perfected in every...
View full product details
onclick="pintrk('track', 'addtocart');"